Cinderella then and now – Discovering values
This year, Little Hadham Primary will coordinate an Erasmus+ project, which is funded by the European Union.
'Cinderella then and now – Discovering values' is a two-year project in the framework of ERASMUS+ Programme, Key Action 229: Cooperation for Innovation and the Exchange of Good Practices. This project, which is led by Little Hadham Primary School, brings together six primary schools from UK, Spain, Italy, Greece, Poland and Croatia.
Stories are a fantastic way to inspire children and initiate social discussions, so that they can gain an understanding of shared values. Our project takes this story as a starting point: children at Little Hadham will explore its values and morals through the storyline & quotes e.g. antibullying, kindness, fairness, courage, self-belief, hard work, perseverance. We will look at Cinderella then and now, how we would welcome 'Cinderella' to our schools, make her feel included and welcome, enable her to be safe and happy! The main goal is to improve school inclusion by providing all children including the young immigrants & refugees with the opportunity to find a place in their schools and communities through active participation in their school, so that they feel included, welcome, safe and happy.
Our project was inspired by the following areas: Immigration and inclusion; British values; Keeping Safe and Feeling Happy; eSafety; Antibullying; Climate change and Sustainable Goals 2030.
The main objectives of the project are:
To promote shared values, equality and inclusion though collaborative activities
To equip & educate pupils and teachers on strategies regarding safety and well-being
To develop collaborative partnership between schools and the wider community and to implement the European dimension amongst all participants
To familiarise schools with Climate Change
Alice in Wonderland: Discovering our roots
This is a three year project in the framework of ERASMUS Plus Programme, Key Action 229: Cooperation for Innovation and the Exchange of Good Practices. The Project brings together six partner primary schools from five European countries: UK (England and Northern Ireland), Lithuania, Italy, Greece and Spain.
Through a variety of stories, the project's aims are to promote respect for democracy, the rule of law, diversity and solidarity, an understanding of the multiple facets of social integration, inclusion of different cultures in our classrooms, the inclusion of young immigrants and refugees.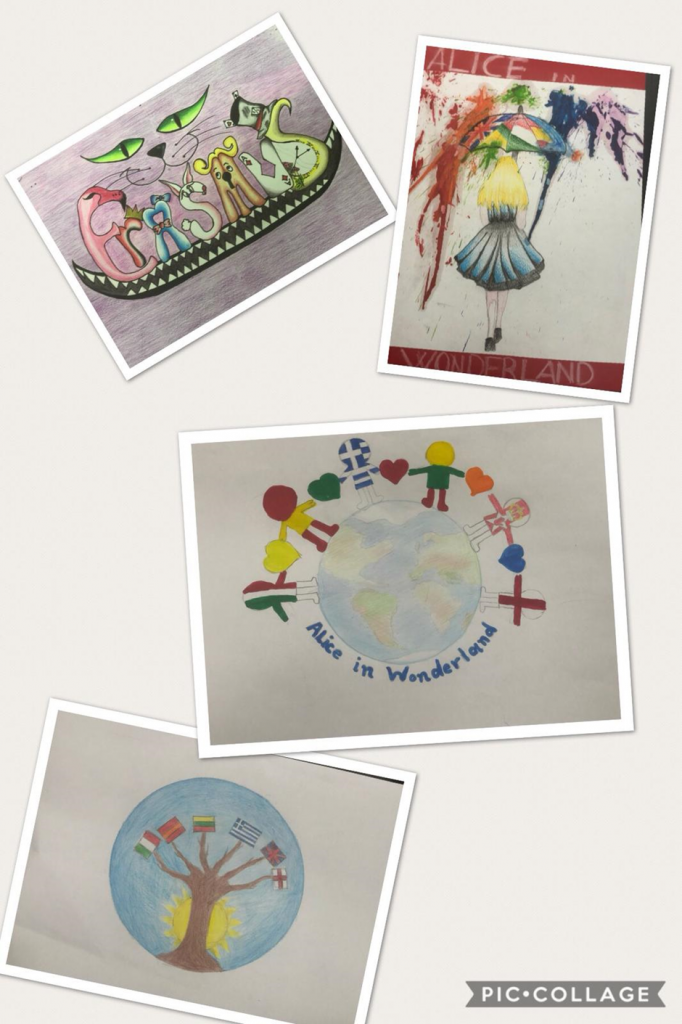 The main goal is to improve school inclusion by providing not only the young immigrants and refugees but all children with the opportunity to find a place in their new communities through active participation in their school.
Inclusion is certainly a wonderful idea. Sadly, it does not happen by itself. Alice in Wonderland is a story that gives pupils opportunities to understand real life issues. It gives children an insight into a world, which they may not have experienced, but it enables them to become citizens with empathy.
The activities planned in the project will help children understand the framework based in four thematic topics: Immigration; How together we achieve more; Democracy; European cultural heritage.
Up to now, children had the opportunity to get involved in many collaborative activities in our school, such as: making a mural, participating in a logo competition and in the activities of the Fairtrade event to raise funds for this charity, enjoying a variety of art and writing activities and opportunities in all classes, reading the chapters of the book Alice in wonderland during the 'Once upon a story' afternoons, celebrating World Book Day and dressing up as one of the characters, having termly projects linked to our Erasmus project and researching cultural aspects of our partner countries, making and sending cards to our partner countries, holding an art week and researching artists from partner countries, electing school captains and learning about democracy! All teachers and older children have twinspace membership and they can join in forums, contribute their work in pages, communicate and collaborate in various activities. Furthermore, there have been four mobility trips in Spain, Northern Ireland, Lithuania and Greece and five members of staff have attended these educational trips.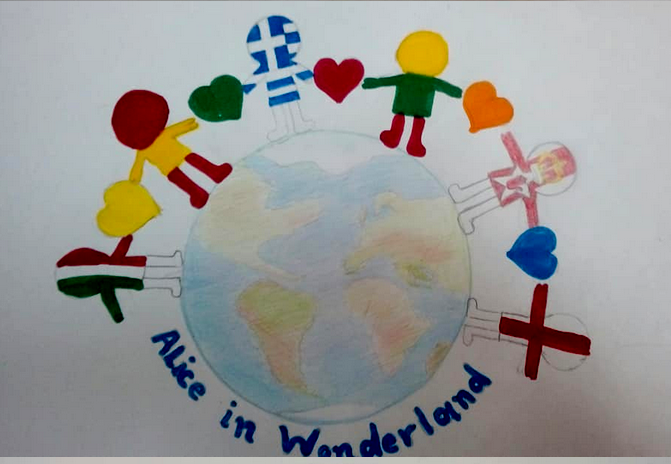 If you would like to see some eTwinning work of this project, please click on this link: https://twinspace.etwinning.net/71702/home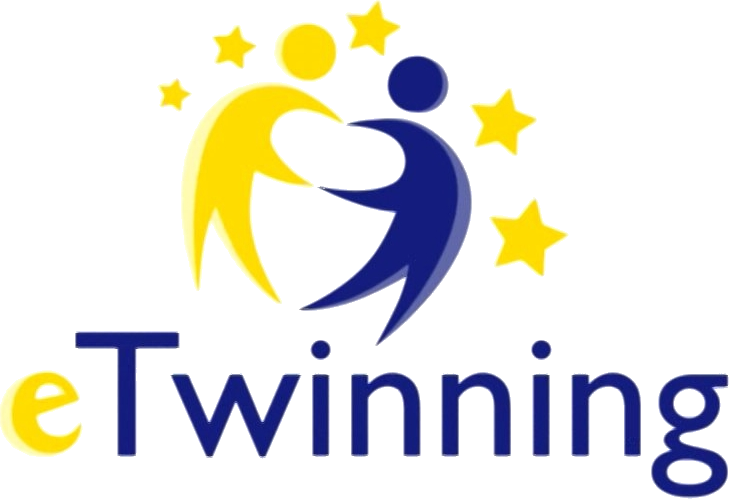 Mobility in Gran Canaria – November 2018
Focus: Immigration
Activities and impact
Whole school presentation / celebration with dances, songs and traditional costumes worn by the children. The leading school set a high standard and shared a whole school spirit and ethos. The whole school presentation culminated in a song performed by all staff and children.
Whole Erasmus Project meeting and Q&A session.
Each country presented their Powerpoint presentations on immigration. Children learnt information about the different schools and the history of immigration as well as the current situation in each school and each country.
Sharing good practice – twinspace. Coordinators from England and Lithuania delivered a session on twinspace – basic features and ICT tools that could be incorporated to show collaboration between children (e.g. padlet).
Voting of logo using democratic processes, involving children and teachers.
Deputy Head and Project Coordinator attended this meeting.
Mobility in Northern Ireland – March 2019
Focus: Charity
Activities and impact
Members of the missions presented their PPT presentations regarding the charity event that had taken place in their schools.
An Educational Support Officer provided us with a comprehensive presentation on how the school is dealing with children whose English is a second language within the broad context of diversity (they are called newcomers), what strategies and resources (a variety of letters translated in many languages) they use to support these children and their families.
Workshop on twinspace by the Coordinator of England – brief and comprehensive presentation on how to use the twinspace for collaboration between pupils and teachers and dissemination of results
Throughout our visit, we have been given the opportunity to meet teachers from different European countries, to closely observe the different educational systems and pedagogical methods applied in this school in Northern Ireland, to learn about their culture and to exchange ideas and views on a variety of subjects. The experiences we have gained from our stay there were truly unique.
Headteacher and Project Coordinator attended this meeting.
Mobility in Lithuania – May 2019
Focus: 1st year evaluation
Activities and impact
A variety of activities took place such as: Concert for guests – singing by children in different languages and playing different instruments; tour around school guided by children; meeting with school headmaster and questions and answers session on school management and education; workshop on Twinspace and Mobility Tool; observing and teaching lessons by Project Coordinators and Teachers who attended this mobility; music and cultural lesson with students.
We had the opportunity to work on interim evaluation and project issues, as well as plan ahead collaborative activities for the pupils using twinspace.
KS1 Classteacher and Project Coordinator attended this meeting.
Mobility in Greece – November 2019
Focus: Democracy
Activities and impact
PPT presentations on School Captains elections were shared and various discussions on democratic schools and other areas of our project took place. Meetings with officers of education of immigrants, social workers and a visit to the (hot spot) immigrants' campus were very interesting and enlightening. The Project Coordinator of England shared the collaborative activities that children can join in twinspace and the questions that they can respond in the forums about democracy.
Teachers had the opportunity to observe lessons in a quite different educational system, explore and discuss democracy in schools and classes, as well as discuss arrangements for the children in the next mobility.
Early Years Classteacher and Project Coordinator attended this meeting.
Future meetings
Mobility in England – March 2021 Focus: Art
Mobility in Italy – May 2021 Focus: End of project evaluation