Forest School is: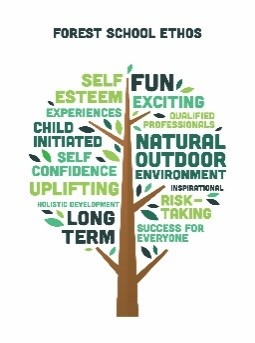 An inspirational, long-term, approach that offers opportunities, through small, achievable tasks, to achieve and develop confidence, resilience and self-esteem in a natural, outdoor environment where responsible risk taking, fun, free and child-led experiences are supported and facilitated by qualified Forest School practitioners.
At Little Hadham, through our Forest School sessions, we aim to foster resilient, confident, independent and creative learners. A dedicated and impassioned Forest Team consisting of four qualified practitioners, ensure that all children are given opportunities to spend time both in the small on-site wood and in the larger community woodland, Millennium Wood, an interesting 20 minute walk from school. Learning is child-led, observed, reflected upon and reviewed continually. Activities include – trust and team games, imaginative play, den and shelter building, whittling and use of other appropriate tools, knots, art activities, tree climbing, fire building and lighting, cooking, tree, flower and wildlife recognition.
The benefits of Forest School are many and very quickly seen – FUN, trust, confidence, social and physical skills, motivation, concentration, knowledge and understanding, a fully immersive and hands-on experience of the different seasons/weathers and just 'being' outdoors.
General Forest School Kit
Wellies
Thick/warm socks
Old, warm clothes e.g. joggers, leggings, long sleeved shirt, sweatshirt, fleece. Lots of layers.
Hat and gloves
Full waterproofs will be provided